Aberdeen Hall Master Planning
2004 to Present - Kelowna, BC
Aberdeen Preparatory School is a private school adjacent the UBC Okanagan campus in Kelowna. Meiklejohn Architects has been the primary planning and design architect of for the School's building and was also commissioned to developed the campus master plan at the outset of the Junior Hall (Phase 1) design in 2004, again when the Senior Hall (Phase 4) was in schematic design in 2012, and more recently in 2016 as part of the planning for the Senior Hall addition (Phase 5) and the new Gymnasium & Wellness Centre (Phase 6).
The master plan design incorporates a formal axial arrangement of buildings set along a 'bench' in the slope. The overall affect is that of a campus which encourages controlled crossover of all student and faculty in a casually controlled way. The entrance to the elementary and pre-schools is separate from the high school and future buildings to the West to manage a variety of vehicular and pedestrian traffic.
Architecturally, the sloping site provides design challenges as well as opportunities, one of which is the sweeping views of the neighboring valley captured in all building's through large windows. The rustic setting supports the wide use of robust materials i.e. architectural concrete and large timbers.  This strong architectural style unifies the buildings and provides a solid departure as newer designs work from a theme.
Project Data
Status: Ongoing
# of Buildings: 4 Completed, 1 in Design
Owner: Aberdeen Hall
Staff: Jim Meiklejohn – Principal
Stoke Tonne – Project Architect
Shirley Ng – Production
2012 Masterplan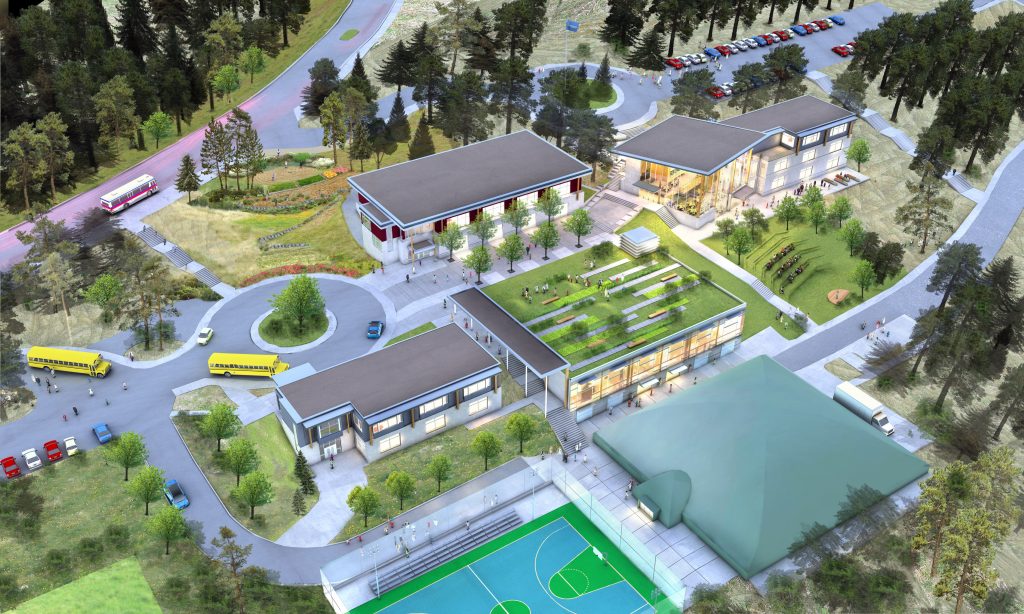 2016 Masterplan